Before we sequester in the hills to write and record, we gather our thermoses and blankets, and make pies, and as upward through the gaping neckhole of a shapeless garment knitted by a loved one, we cast our collective eye over the last wee while…

We had a three date mini-tour this autumn to stretch our legs a bit and remind ourselves what gear we have and exactly what shape it is in the van jigsaw. We played at Edinburgh's Summerhall and our beloved Glad Café both with Broken Chanter in support, and Perth Horsecross Theatre with local band Dante. Very nice to play in Perth for the first time, and just a hop and a skip away from where we birthed and raised our Welcome Strangers LP, bringing us back fond memories of chilly village halls, endless coffee from the Pumpkinfield stove, toddler recordings, Rob recording layers of guitar in his pyjamas, leaving tape to fester in a tupperware box of gin, and late night novelty percussion…

New sounds are emerging like curious duck-beaks from behind the bulrushes; those of you who were at the Song, by Toad Origins farewell night may have a little more insight than others. Emily and Joe styled it out through some veerrry fresh songs on the night, but we look forward to fermenting these over the winter for the new record.

Andy Catlin is a great photographer, and a fine man too. Here are his pics in full from the Summerhall show as well from the Song, by Toad Origins show.

We remain 'feral pop outliers' in this year's lists, which we reckon officially makes Welcome Strangers a timeless classic?! We feel as proud as we ever did of our 2018 record, and thankful for the help we had to make it. To name a few: Creative Scotland, string players Kate Miguda, Simon Graham, Liam Lynch, Alexis Bennet, Emma Connell-Smith, Harriet Davidson and Robin Mason, our singing angels Seonaid Aitken, Karina Smillie and Sarah Reid, trombonists Mikey Owers and Tom Smith, Sybren Renema on sax, our dear pal Alex Livingstone on guitar (who's been playing with us a lot lately), Keith Wilson for the cover art and all at Fire records for everything in between. It's been an emotional year in many convoluted ways, and we are ever glad for the support and love of some very dear folks.

If you don't have it already, or are looking to expand your collection, or you'd like to share it as a gift this season, please follow this link to purchase Welcome Strangers.
Before the year is out we'll have a couple more bits to share with you, a playlist, and maybe a wee video, and maybe some extra special release news from an unexpected source… In the meantime we're playing our last show of the year at the Radio Scotland Quay Sessions on the 12th December. Tickets have already gone, but very soon there'll also be some live footage from that on the telly box. We'll be joined by Alex on guitar, and further upholstered by the winsome combination of trombones and backing vocals.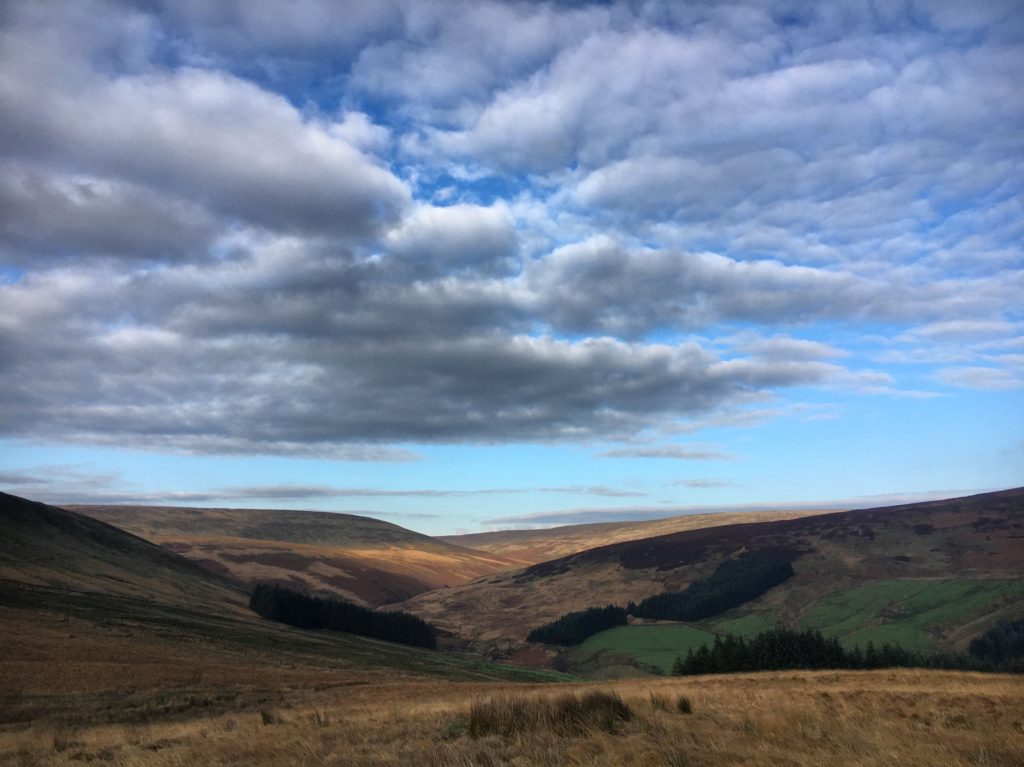 Here's a pic Rob took on a recent fell run. If you sign up to our mailing list here you'll get all the exciting if infrequent news first and straight to your inbox. Stay warm, love from all of us, Emily and the band xxx